Qui trovate l'elenco degli artisti emergenti inseriti nell'archivio musicale di Radio Roberto. Tutti i brani sono Creative Commons e possono essere liberamente scaricati per uso NON COMMERCIALE dal sito Jamendo.com o da altri siti che distribuiscono musica Creative Commons.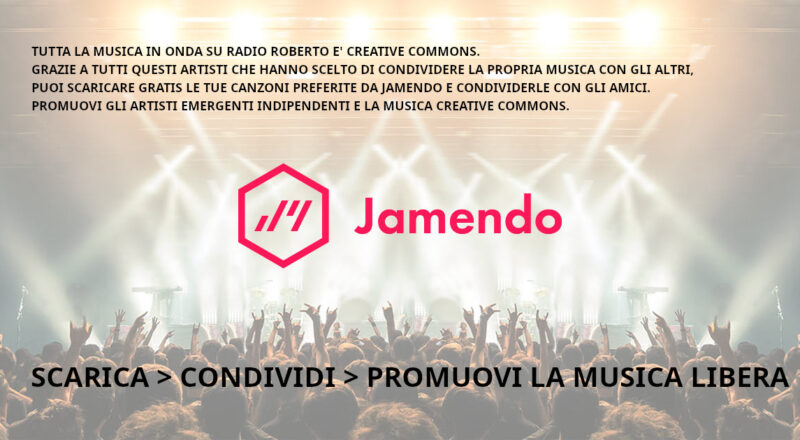 Scopri di più sulle licenze Creative Commons, un modo alternativo per distribuire la musica (e non solo), tutelando i diritti degli artisti che l'hanno creata.

Elenco aggiornato al 03 Novembre 2022.
57jackbraves
A8 Music Production
AJC and The Envelope Pushers
Al Torrado
Alex Beroza
Alezz
Alfonso Lugo
Alles
Allie Farris
Amelie
Amy McFollow
Andre Rodriguez
Anitek
Anna Chiara
Anna Craig
Anne Davis
Anniela
Anny Sky
Ant On Wax
Anton Leuba
Anydoll
Anyel
Arcangelo Simonetti
Arom
Arrow and Olive
Asaf Productions
Ashley
Astro Naughty
Audiation Studio
Audio Jungle
Audira
Audrey
A Virtual Friend
Axl & Arth
Ay 14ice
Azoora Feat. Graciellita
Azwel Julian
BabyPaul
Back Yard Dreaming
Balera Elettronica
Baroni One Time
Basement Skylights
Becays
Bellevue
Ben5Bass
Besson and Sa
Black Ship Company
Blesksound
Boom Boom Beckett
Boulvard X Audi
Brain Beat
Brain Purist
Breezeless
BrewHouse Music
Brigitte Meuwsen
Bryan Art
Bryyn
Burly
Camo Columbo
Can't Stop The Daggers
Carbon Casca
Carter
Cavanaugh
Chasing Eidolon
Chaz Robinson
Chill Carrier
Chris Kool
Chuck Mason
Claudio Alberti
Class 99
Color Out
Cory Feigen
Ctoonzmusic
DandeeJ
Daniele Bellitto
Danie Nel
Danish Daycare
David Amber
David Krystal
Dazie Mae
D'Callaos
December Rose
Deko MC
Deli Rowe
Development Unity Crew
Devinjai
Devon Elizabeth
Devyn Rose
Diavoloops
Diego Noar
Dimitri Reeves
DJ Roam
DJ Quincy Ortiz
Doppelagenten
Dorine Levy
Draganov Veaceslav
Drey
Drunksouls
Ed Shulzhevsky
Egor Budennyy
Ekout
Elemento
Elliot Brown
Elysian Bailey
Emerald Park
Emily Richards
EmoreJ
Ensono
Eric Harper
Erizo
Estudiante
Evgeny Zamyatin
Explosive Ear Candy
F Jam Online Studios
Fall Walk Run
FaraOne4
Fast Astronaut
Fernweh
Filippo Gatti
Finn Anderson
FkN
Forget The Whale
Fresh Body Shop
FS Bloom
Funky Stereo
Giovanna Crescenzo
Giulia Ermellino
Giulia Mihai
GLM Nation
Go Satta
Grace Kelly
Grant Siedle
Gyako
Happiness
Hasenchat
Hazernomical
Heartskin
Heifervescent
Hiroumi
I am not lefthanded
Ilona Akimova
Infraction
Inner Fluid
Intoxicated Piano
Isra
J Metro
Jai Lynn
James Miller
Jara
Jasmine Jordan
Javier Gomez Bello
Javier Jerez
Jean Marc
Jeffrey Philip Nelson
Jekk
Jemex
Jill Zimmerman
Jim Gaven
Jo Rob
JohannMusic
John Zealey
Jon Worthy
Jonathan Dimmel
Jonay
Jordy Eley
Josh Woodward
Joshua Ticsay
Juanitos
Julandrew
Julio D
Jyant
Kankel
Karmuazine
Kellee Maize
KHarMa
Kidd Young
Killg
King Hitz
Kodama
Kris Roche
Kristian Vuljar
Kyle Cox
Latasha Lee
Laurence DaNova
Lawrence Beamen
Le Fly
Le J James
LegaZ
Les CJ's
Leslie Hunt
Lexblends
Lia Craze
Liam Stewart
Lilly Wolf
Lindsey White
Liv Margaret
Lng La Nueva Guardia
Lollita
Long Trigger Music
Los Decanos
Louis Ferrini
Loveshadow
Lubok
Luco Slot
Lucrecia Dalt
Luke Knox
Lyonn
Madelyniris
Mai Naim
Maiya
Majed Salih
Makkenzie
Malika Rai
Manhat10
Manolis Moumouzias
Manuel Knappitsch
Marc Reeves
Marcc Gregory
Marco Buono
Marco Margna
Mariana Contreras
Martinez
Mates Mate
Matty
Melanie Ungar
Mel's
Mercury and the Architects
Mercury in Summer
Mezzamo
Michael Ellis
Michael McEachern
Michelle Chandler
Mickey Blue
Mike Falzone
Millionaire Blonde
Mirva
Mistery
Mit-Rich
Mixotic DJ Sets
Mixtapekid
Modern Pitch
Modus
Monkeyman
Moot
Mopi
Nadrine
Nastya Yasnaya
Natta
Nayah
Nehilo
Nemo Wilson
Neon NiteClub
New Generation Kids
Nick Gill
Nick Ray
Niki J Crowford
Noin
NOJ
Non Camera
Notch
Nova
Now Endeavor
Nyco
Nyloc Rex and Doctor Knox
Ocean Jet
Ogi Feel The Beat
Olga Zhilkova
Olivia Herdt
Oneness
On Returning
Other Noises
Oussama Belhcen
Over All Brothers
Paradero 7
Paul Klason
Paxton Pennington
Pedro Novoa
Philippe Amr Almaro
PixyG
Pokki DJ
Popular Chic
Pornophonique
Professor Kliq
ProleteR
Propuesta de Fe
PTOWN1200
Quentin Hannappe
Quesabe
Rag and Bones
Ralf G
Raquel
Rasta Nigga Don Rey
Rayphonic
Razmataz
Red Trees
Rein
Reno Project
Robert Avellanet
Robert80z
Roberto Bocchetti
Rogier Van Der Brink
RU.ARE
Rxbyn
Sae
Safar Mirzoev
Sagas
Sam Brown
Sam Garbett
Samie Bower
Samuele Zippo
Samuel Levy y Los Ninos Perdidos
Secret Weapon
Shampoo Tears
Sianoa
Silvia Replay
Skulastic
Skullcap
Slap Stick
Slightly Left Of Centre
Soundatelier
Sound of Jack
Soundshrim
Spacial Unity
Square A Saw
Steady Hussle
Steven Dunston
Stevie Davis
Stuart Guthrie
StudyBreak
Summerflugl
Sundayers
SunSpot
Sunwill
Swear and Shake
Sweet Play
Sydney Leigh
Synthetik Human
Tab
Tamara Laurel
Tarra Layne
T Bird
Teresa
The AJ Gatz Project
The Dada Weatherman
The Devil Music Co
The Ease Down
The Easton Ellises
The Heavens
The Jaygles
The Kyoto Connection
The madpix project
The Romantic Era
The Windy City
This Public Life
Tom Orlando
Torelli and the Fuse
Ty Andelman
Tyler Adams
Tymono
Vanda
Viola
Viride
Visualkarma
VOIC3S
Wave Wave & Blinded Hearts
We are FM
WhiteRoom
Yavor
Yigit Atilla
Yne Y Wasmo
Young Redd
Yris
Zack Linton
Scopri di più sulle licenze Creative Commons, un modo alternativo per distribuire la musica (e non solo), tutelando i diritti degli artisti che l'hanno creata.